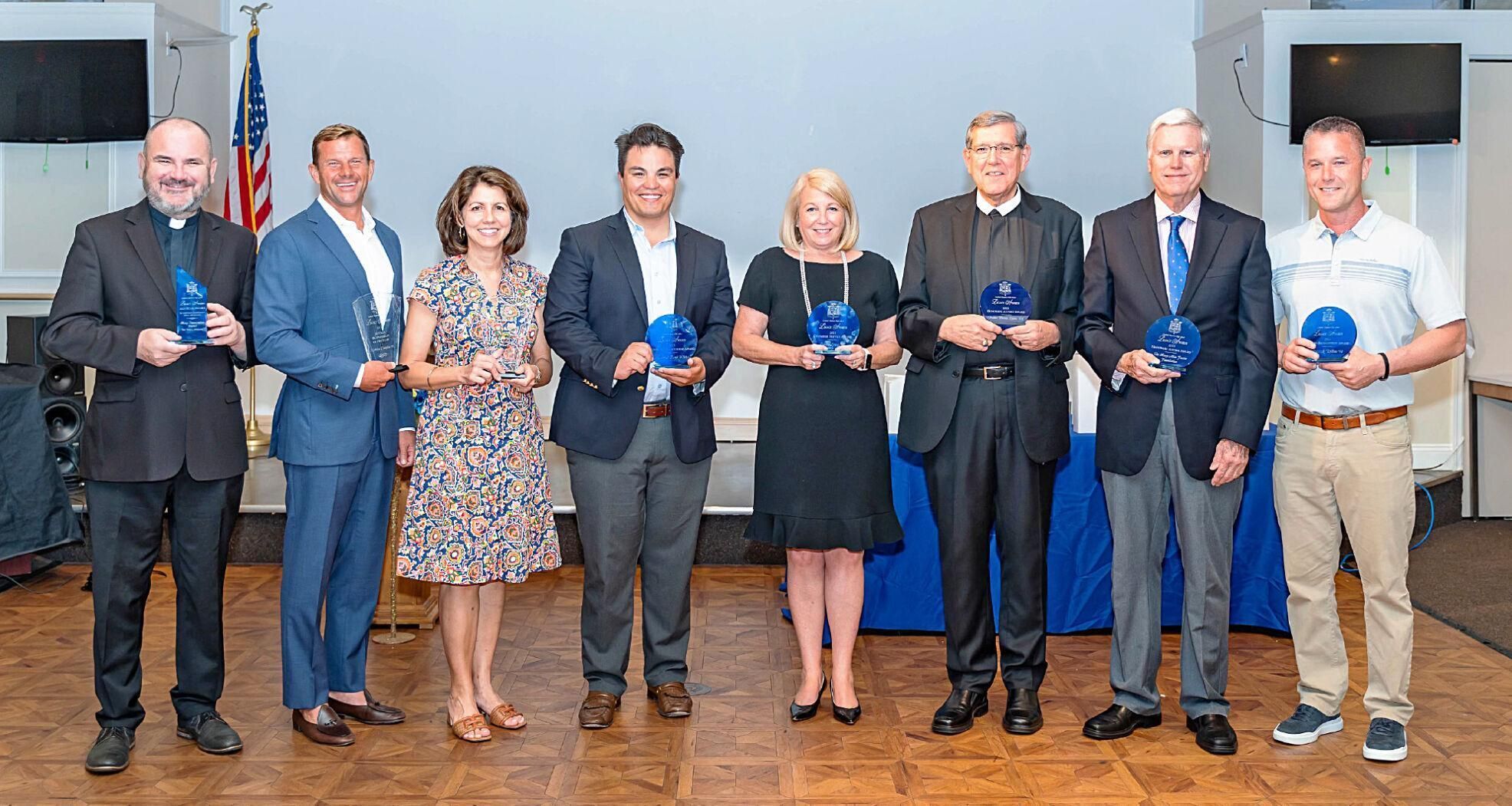 WEST PALM BEACH | Cardinal Newman High School hosted the eighth Crusader Legacy Awards Reception May 18, 2023, in Skaff Hall at Mary Immaculate Parish in West Palm Beach. The event honored alumni and benefactors of the school who have demonstrated outstanding achievements and contributions to the college preparatory school and the community. Ellen Acosta, class of 1982, presented the 2023 Legacy Awards to recipients in six categories.
"This year's Legacy Award winners are inspiring because of the meaningful impact they have had on our community," said Christian Brother Thomas Zoppo, outgoing school president. "What these individuals have in common is a commitment to serving others. They have earned the respect of the greater Cardinal Newman community, and I am honored to recognize their contributions and accomplishments."
Father Tomasz Makowski, pastor of Mary Immaculate Parish, Archimandrite Glen Pothier, pastor of St. Edward Parish in Palm Beach, and the St. Edward Guild were recognized with Legacy Star Awards for their continued dedication and support of Cardinal Newman.
The Mary Alice Fortin Foundation and Brother Zoppo were presented with Legacy Honorary Alumni Awards recognizing non-alumni for contributing to the high school through leadership and continued support. Larry Alexander, director and secretary, accepted the award on behalf of the foundation.
Patrick Dillon, class of 1991, received the Legacy Alumni Recognition Award, which acknowledges alumni whose professional achievements and volunteer contributions promote Cardinal Newman to the community. Gabriel Isasi V, class of 2011, received the Legacy Community Leadership Award for his work.
Eileen Lewis, class of 1982, principal of St. Juliana School in West Palm Beach, received the Legacy Crusader Award for her many years of service in Catholic education. The Legacy Businesswoman of the Year Award was given to Dr. Ada Hanlon, class of 1984, for her work as a local pediatrician. Nick Coniglio, class of 1997, received the Businessman of the Year Award for significantly impacting the high school and the community.
For more information about Cardinal Newman High School, visit https://cardinalnewman.com/, call 561-683-6266 or follow the school on Facebook, Twitter and Instagram.