Vision
Office of Catholic Schools Vision Statements 2020-2025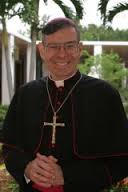 The Diocese of Palm Beach and the Office of Catholic Schools initiated a strategic planning process in 2013 which engaged stakeholders from across the diocese. Strategic Vision 2020: Charting a Course for Excellence provided direction and purpose for our work in Catholic education through the year 2020.  Professional consultants from the Alliance for Catholic Education at the University of Notre Dame guided us through this strategic visioning process.  
Building on that foundation, principals from across the diocese worked to develop Vision Statements for our Catholic schools to provide direction and purpose for our work from 2020 through 2025.  School Advisory Council members and other leaders from our three high schools worked concurrently to develop Vision Statements for each of the three high schools. Once again, a professional consultant, Sr. Carol Cimino, SSJ, facilitated the development of the vision statements, which are based on the National Standards and Benchmarks for Effective Catholic Elementary and Secondary Schools.  These national standards cover four key areas related to Catholic schools:
Catholic Identity and Mission
Academic Excellence
Leadership and Governance
Operational Vitality
The end result is the living document found in the link below: 
Office of Catholic Schools, Diocese of Palm Beach, Vision Statements 2020-2025.