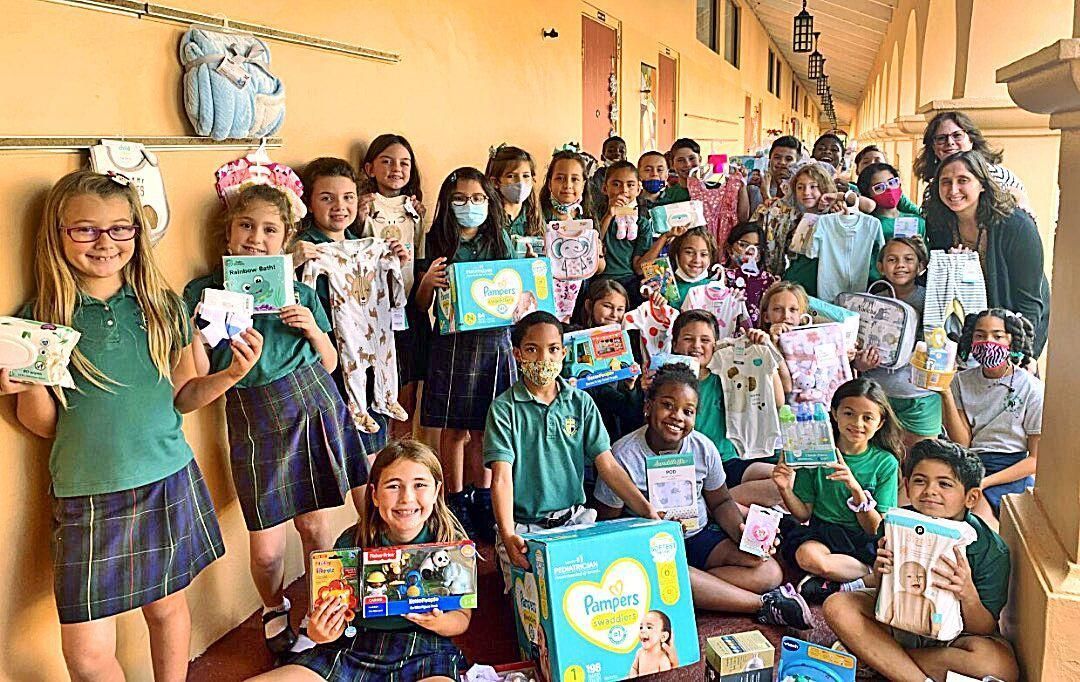 PALM BEACH GARDENS  |  The Diocese of Palm Beach will celebrate Catholic Schools Week from Jan. 30-Feb. 5, 2022, with many activities highlighting this year's national theme, "Catholic Schools: Faith. Excellence. Service."
"The national Catholic Schools Week theme ties in beautifully with our local theme of 'Faith Inspiring Excellence,'" said Gary Gelo, superintendent of schools for the diocese. "As I have the opportunity to visit schools and talk with pastors, principals and teachers, I'm struck by the deep faith commitment of all of them as they strive to bring Christ to our young people. Their faith truly inspires our young people to excellence in their lives and gives them a great example of living a Christ-filled life."
Schools typically observe Catholic Schools Week with Masses, open houses and other activities for students, families, parishioners and community members. Through these events, schools focus on the value that Catholic education provides to young people and its contributions to the Catholic Church, communities and the nation.
The annual Catholic Schools Week celebration is a joint project of the National Catholic Educational Association and the U.S. Conference of Catholic Bishops. This year marks the 48th anniversary of the week, established in 1974 to recognize Catholic education as a great gift to the church and the nation.
Catholic schools themselves have an even longer history – St. Elizabeth Ann Seton, founder of the Catholic schools, opened her first school in Baltimore in 1808.
Currently, there are 5,981 Catholic schools in the United States. Of those, 1,810 are urban, 525 are inner-city, 2,382 are suburban and 1,264 are rural.
In the Diocese of Palm Beach, there are three Catholic preschools, 12 elementary schools, three high schools and two privately operated Catholic schools.
All schools were invited to submit their plans for Catholic Schools Week to the diocese and the Florida Catholic. Following is a list of highlights at the schools. Be aware that plans may change, so check with your school for the latest schedule. Also know that schools may require visitors to wear masks in order to safeguard students and staff.
ALL SAINTS, 1759 Indian Creek Parkway, Jupiter
Monday: Care packages will be delivered to police, firefighters and Jupiter Medical Center. Tuesday: Activities to appreciate grandparents. Thursday: 9 a.m. Mass for parent appreciation day.
ST. ANASTASIA, 401 S. 33rd St., Fort Pierce
Sunday: 9:30 a.m. Mass where teachers and staff will receive a special blessing and small gift. Monday: Bring a small jar of peanut butter for the fourth-grade service project to help needy families. Tuesday: Families of Faith Empowerment Night at 6 p.m. discussing safe use of technology.
ST. ANN, 324 N. Olive Ave., West Palm Beach
Sunday: Family Mass at 9:30 a.m. Afterward, view student pictures and essays on "Why I like St. Ann School." Tuesday: Picnic lunch with grandparents. Thursday: Students will make prayer cards for their guardian angel and parishioners.  
HOLY CROSS CATHOLIC PRESCHOOL AND CENTER, 930 Southern Blvd., West Palm Beach
Parents are invited to join their children for special activities (picnic lunch or playtime) all week at designated times. Grandparents or family friends also are invited.
ST. JOAN OF ARC, 501 S.W. Third Ave., Boca Raton
Sunday: Children's Mass at 9:30 a.m. Monday: Career day presentations. Friday: Creating videos in groups or as a class on "What Catholic School Means to Me," with links shared in school newsletter.
ST. JULIANA, 4355 S. Olive Ave., West Palm Beach
Sunday: 9 a.m. Mass with students and their families. Tuesday: Homerooms assemble "blessing bags" for local homeless population. Wednesday: Teachers will give students letters written by family members, and students will write back.
ST. LUKE, 2892 S. Congress Ave., Palm Springs
Sunday: 9 a.m. kickoff Mass. Monday: Writing letters to shut-ins. Thursday: National Junior Honor Society inductions, with all students attending.
SACRED HEART, 410 N. M St., Lake Worth
Sunday: Catholic Schools Week kickoff Mass at 9 a.m., followed by eighth-grade bake sale. Thursday: Former Miami Dolphins player O.J. McDuffie as guest speaker. All week: Seeking donations for Adopt-a-Family program (hygiene products, socks, cleaning products).  
ST. VINCENT FERRER, 810 George Bush Blvd., Delray Beach
Monday: Free dress-down day for students who wore their school uniform at Mass the previous day. Tuesday: Students create Valentine's Day card for nursing home residents. Thursday: Students hear talks about vocations in the church.
High Schools
CARDINAL NEWMAN, 512 Spencer Drive, West Palm Beach
Tuesday: Students can enter a raffle to win a spirit basket for a minimum of $5. Wednesday: Students wear a shirt, jersey or outerwear from their first choice for college. Thursday: Students and faculty/staff can show their school pride by wearing a blue and/or gold top with uniform bottoms and/or jeans.  
JOHN CARROLL, 3402 Delaware Ave., Fort Pierce
Monday: Students will dress as professionals or trade workers they admire and appreciate. Must be consistent with Catholic ideals. Wednesday: Patriotic day, wearing red, white and blue, and praying for the nation. Friday: Spirit jeans day, with students paying at least $2 to wear jeans, and money going to Hope Rural School in Indiantown.
To read more stories in Florida Catholic, click here.