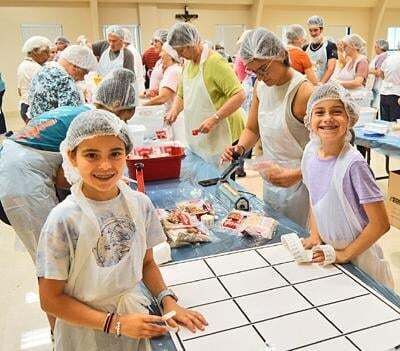 BOCA RATON | Members of Ascension Parish packed more than 40,000 meals April 22, 2023, for Cross Catholic Outreach in their Boca Raton parish center. More than 200 volunteers pitched in for a few hours, adding scoops of rice, soy, dried vegetables and beans, a packet of vitamins and heaps of love to plastic bags that would be sent to those in need overseas.
The volunteers were young and old. One helper walked with a cane after undergoing knee replacement surgery two weeks earlier. Another was there to honor a friend who died in the past year from pancreatic cancer.
"It makes us really happy because we get to help families in need of food. It feels very good to help them, and it's really fun to pack food," said Mia Herrera, who worked with her mother, Natalia Herrera, along with Mia's friend, Olivia Ortegon-Basili. Mia and Olivia are students at Grandview Preparatory School in Boca Raton.
Tessie O'Dea, relationship development manager with Cross Catholic Outreach, who organizes the volunteers and keeps them on task, told the group: "Every day almost 15,000 children die from hunger-related causes. 19 million children under the age of 5 suffer from severe acute malnutrition, which, as we all know, if left untreated, can lead to death."
She encouraged the helpers to reflect on the fact that they are the last people to touch the bags of food until a mother, grandmother or other caregiver opens them in their home far away. "As you go to bed tonight, it is my prayer that your hearts will feel joyful and happy for what you accomplished today," O'Dea said.
Cindy Nau, Ascension's communications director, said it was the sixth food packing event for Cross Catholic Outreach at the parish. "We have a missions committee, and we have two local mission partners, and then Cross Catholic is our international mission partner," she said. "We do Box of Joy for them, and then we do this project. Hopefully, when they start doing mission trips again, we want to do a mission trip with Cross Catholic."
To learn more about Ascension Parish, visit https://ascensionboca.org/ or connect with it on Facebook, Twitter, Instagram or YouTube. For information about Cross Catholic Outreach, go to https://crosscatholic.org/.