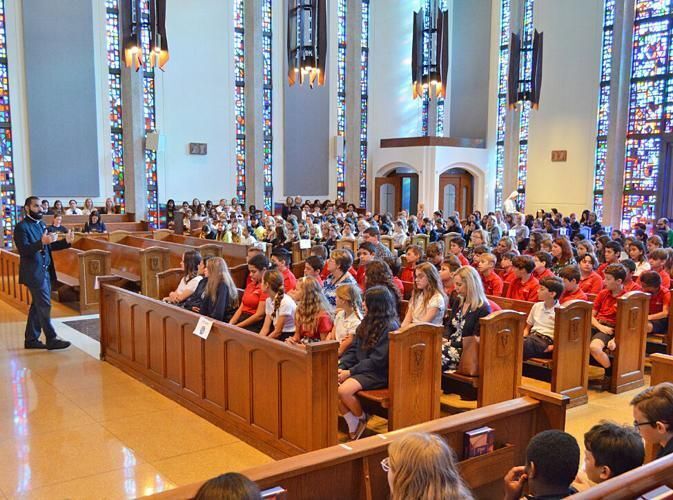 BOYNTON BEACH | More than 330 sixth-grade students from eight different Catholic schools visited St. Vincent de Paul Regional Seminary in Boynton Beach March 14.
Invited by the diocesan Office of Vocations and Seminarians, the students and their chaperones were from All Saints in Jupiter, St. Clare in North Palm Beach, St. Helen in Vero Beach, St. Joan of Arc in Boca Raton, St. Juliana in West Palm Beach, St. Luke in Palm Springs, Sacred Heart in Lake Worth and St. Vincent Ferrer in Delray Beach.
Father Daniel Daza-Jaller, diocesan vocations director, welcomed the students and adults and introduced Father Alfredo Hernandez, rector of the seminary and a priest of the Diocese of Palm Beach. Father Hernandez recalled that he was a fourth-grader when he first stepped onto the seminary campus.
"It's great to have you here. It's good to have you know that priests don't just grow on trees," he said. "Priests come from families, and they grow in Catholic schools like yours and in public schools. And then they come to a place like this to be prepared to be good priests to serve you."
The day's main schedule featured four stations that included Eucharistic adoration, a tour of the seminary, split sessions of girls listening to the vocation stories of women religious and boys hearing from seminarians, and time for outdoor recreation. The visitors were treated to a pizza lunch, then were invited to participate in a question-and-answer session and Mass.
Father Daza-Jaller explained that the seminary is where men come to train to be priests. It's also their home while they're in formation.
The religious sisters who spoke with the female students about consecrated life and being members of religious orders included Sister Mary Roberta Connors of the Franciscan Sisters of the Eucharist, who works at the seminary; Sister Elizabeth Halaj, Little Servant Sisters of the Immaculate Conception, from St. Vincent Ferrer Parish and School; Sister Mary Elizabeth, Order of the Discalced Carmelites; Sister Myriam of the Annunciation, Carmelite Sisters of the Most Sacred Heart of Los Angeles, who serves in the Archdiocese of Miami; Sister Dorothy Mary Mangan, Sisters of Charity of St. Elizabeth, who ministers at St. Matthew in Lake Worth Beach; and Sister Jadwiga Drapala, Sisters of the Most Holy Soul of Christ the Lord, who serves as an episcopal delegate for religious and assists in the Vocations Offices.
Father Daza-Jaller mentioned that Sister Myriam grew up in his home parish, St. Rita in Wellington, where they were in confirmation class and youth group together. He told the students that the day would be a good opportunity for them to think about God's plan for their lives.
"We wanted to take this time to provide you with this environment and this place where you can ask God these questions: God, what's my vocation? God, what's your will for my life? How are you calling me to become a saint? What is that particular path that you've traced out for me?"
For information about vocations to the priesthood and religious life, visit https://palmbeachvocations.com/. To learn about St. Vincent de Paul Regional Seminary, go to www.svdp.edu.