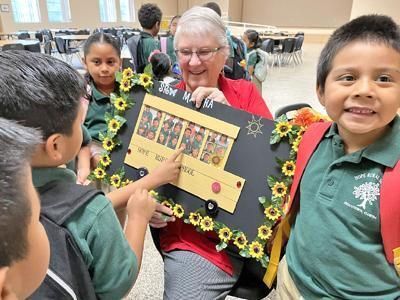 This is part 5 of an ongoing series of articles spotlighting the principals who are leading Catholic schools in the Diocese of Palm Beach.
---
INDIANTOWN | Sister Martha Rohde's fifth- and sixth-grade teachers were special, she said. The Dominican sisters from Sinsinawa, Wisconsin, made such an impression on her that she wanted to be just like them.
"I lived close to the convent and I could hear them laughing at times and enjoying life," Sister Rohde said. After high school, "I came home to Sinsinawa. They were my mentors."
A religious sister since 1966 and currently the principal of Hope Rural School in Indiantown, Sister Rohde has worked at schools every year except three, when she was prioress of the St. Clara community in Sinsinawa. A native of Chicago, she has ministered in education in Illinois, Wisconsin, New Jersey and Florida, including eight years in Indiantown with Dominican Sister Elizabeth Dunn, who serves as Hope Rural's director.
Sister Rohde said she enjoys being a principal, working alongside parents, school staff and students, but it's not her preferred role in education.
"My favorite was being a teacher, and in fact, the first time I became principal, I cried two times that year," she said. "The first time, when everybody went upstairs with their classes and I had no classroom to go to. I had an office, but it wasn't the same. The second time I cried was at parent conferences, because I found parent conferences such a special time, to have a one-on-one with parents. Yes, you talked as principal with parents at times, but it wasn't the same."
As an independent Catholic school in the Diocese of Palm Beach, Hope Rural School relies on foundations, grants, benefactors and state scholarship programs to meet its operational expenses. About 96 percent of its 135 students are first- or second-generation immigrants from Guatemala, Mexico or Haiti, Sister Rohde said.
When the school opened its doors in August 1980, a large percentage of students belonged to migrant farmworker families that moved throughout the United States. But many families desired to settle in one place and not move every few months, she said. The school started with kindergarten through second grade, then added a grade every year up to sixth grade. Now the school enrolls for pre-kindergarten-3-year-olds ("our little Hopes," she calls them) up to fifth grade, with a staff of 24 including 10 full-time teachers.
"We've always been blessed with a wonderful staff," Sister Rohde said. "Our teachers are here, not for the paycheck — but it helps — they are 100% for the kids and for their families. It's a wonderful working relationship. We are family."
She loves seeing the students' faces every day and watching them grow. She also has the opportunity to see Hope Rural graduates come back if they wish to attend college after high school. Scholarship money toward tuition and books is offered due to a generous benefactor who left a restricted gift to the school to aid Hope Rural graduates. Presently, there are 20 graduates enrolled in undergraduate programs.
The school also offers its share of fun activities for students. She said they recently had 2 tons of "snow" delivered so the children could experience sliding in the snow and building small snowmen like they do up north.
"Right now, I'm doing a play with them. Not that I'm a director or anything," Sister Rohde said. "Two of our sisters years ago wrote this play. It was on the children's book, 'The Second Princess,' but I thought, nah, we've had too many girls doing stuff. Let's have boys. So, I made it 'The Second Prince.'"
The play teaches students the value of community and teamwork, which are some of the virtues they learn every day at Hope Rural School.
"So many wonderful things happen here," Sister Rohde said.
For information on Hope Rural School, visit www.hoperuralschool.org, email info@hoperuralschool.org or call 772-597-2203. Follow the school on Facebook. To learn about all schools in the Diocese of Palm Beach, go to www.diocesepbschools.org or follow the Office of Catholic Schools on social media.