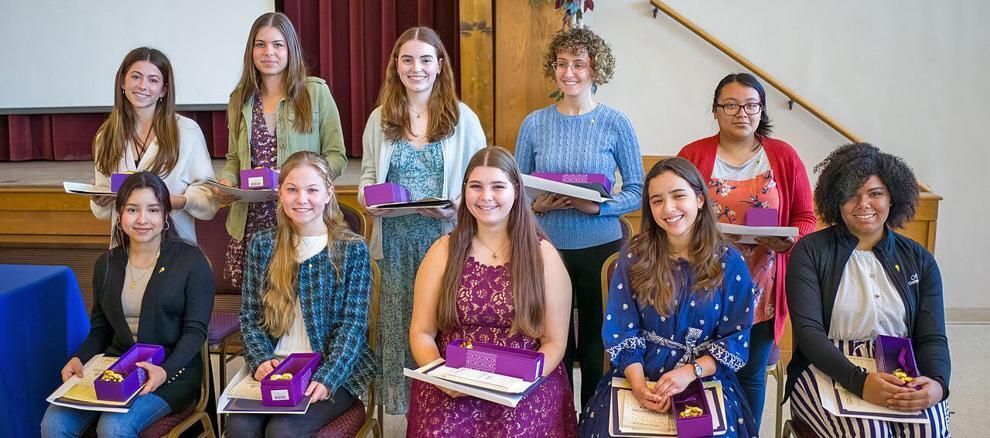 PORT ST. LUCI E | The Palm Beach Diocesan Council of Catholic Women held its first Golden Rose Award ceremony and luncheon at St. Lucie Parish Jan. 14, 2023, recognizing 14 young women in high school for their outstanding spirituality, leadership and service.
Doreen Recco, president of the diocesan council, said she got the idea from the Diocese of Venice. Ellen Bachman, who formerly served as the national council's president, had introduced the Golden Rose Award about three years ago in 2020.
"I was struck. I thought, we always look at academics, but never look at the inner being — the spirituality — of the young woman," Recco said.
With the blessing of Bishop Gerald M. Barbarito, each parish was sent a letter requesting their recommendation of one outstanding high school girl who is active at the parish and community levels to receive the award. In its premiere year, Recco said14 parishes responded, with 14 recipients, one from each parish.
The 2023 recipients and their parishes include: Guisselle Aguirre, St. Mark, Boynton Beach; Hollyn Lewis, Holy Redeemer, Palm City; Kayla Hagar, Ascension, Boca Raton; Gianna Icaza, St. Elizabeth Ann Seton, Port St. Lucie; Isabella Maria Bernal, St. Rita, Wellington; Amelia Prabha, Holy Spirit, Lantana; Laura Rodriguez, St. Vincent Ferrer, Delray Beach; Carrisa Sollecito, St. Lucie, Port St. Lucie; Betzaida Hernandez, St. Juliana, West Palm Beach; Gina M. DePirro, Holy Family, Port St. Lucie; Grace Tycheson, St. Jude, Boca Raton; Helena Canova, St. Ann, West Palm Beach; Chloe Sebuck, St. Martin de Porres, Jensen Beach; and Natalie Acosta, St. Clare, North Palm Beach.
Chairwomen Danielle Wyler and Katie Kisielewski presented each recipient with the Golden Rose Award, along with an honorary membership to the National Council of Catholic Women. Ten award recipients were able to attend the luncheon.
Gina DePirro, award recipient from Holy Family Parish, was jubilant. "I felt very honored and humbled to be a part of such a great group of young women who received the Golden Rose Award," Gina said. "So many of us put so much of our time and faith into everything we do for our community and others. It was a very beautiful ceremony, and I was glad to be a part of it."
Bishop Barbarito said in a video message, "It is with much joy that I congratulate all the young ladies here today. Your dedication and service to your parish brought you here today as a recipient of the Palm Beach Diocesan Council of Catholic Women's very first Golden Rose Award," he said. "The award was established to recognize young women such as yourself for their exemplification of the core values of the CCW to support, empower and educate your peers in spirituality, leadership and service.
"May you continue to live out the Gospel values and be examples to others that God has chosen you to be," the bishop continued. "May our Blessed Mother continue to guide each of you and all that you do."
The Palm Beach Diocesan Council of Catholic Women's Golden Rose Award is open to all Catholic high school girls in the Diocese of Palm Beach regardless of whether their parish has a CCW affiliation or not. To qualify for the award, each young woman must be enrolled in high school (Catholic, public or private) and show leadership abilities, portray spirituality, be involved in a service project in or outside their parish, and must be a practicing Catholic who regularly attends Sunday Mass. Nomination forms can be found on the Palm Beach Diocesan Council of Catholic Women website, PBDCCW.org, or by emailing pbdccw@gmail.com.