Teacher saves first-grader from choking thanks to school training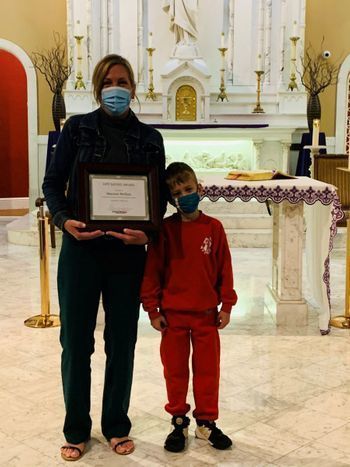 Maureen McClure hoped she would never have to use the Heimlich maneuver technique she learned through St. Ann School's safety training. But when first-grader Dean Pagano found himself choking on a bottle cap, she was glad to have had the training that allowed her to react quickly.
"When you take the CPR classes, you don't think of yourself as really performing any of these actions on your students," said the first grade teacher at St. Ann School in West Palm Beach. "There's a lot to remember. As soon as I saw little Dean's hands grasping around his neck, the safety training came flooding back."
McClure explained that her back was to the students as she was writing on the whiteboard when she heard her students' voices say, "Dean can't breathe."
Sure enough, said McClure, Dean was choking on a bottle cap that was loosely fitted on the bottle. The young boy had gone to sip away a leak that had dribbled from the cap when he accidently swallowed it. Instead of frantically trying to make her way to Dean, McClure remained calm and took a moment to assess her student.
"In the training sessions, we were taught to pause for a brief moment and see if the person would naturally cough the item out before taking any drastic action that could lodge it further," she said. But Dean wasn't coughing it out as hoped, so McClure briskly made her way to Dean's side and performed the Heimlich maneuver.
"It was totally from memory; I hadn't performed the Heimlich before. I gave him three strong pushes and out the cap flew. Thank God it dislodged and that he was ok," Pagano said through a voice filled with emotion.
For a moment, McClure said, everyone was quiet in the classroom and then there was a rush of relief.
"The class actually applauded after the incident, which was a surreal moment to take in. My first graders are young but, they were aware of their classmate's struggling and spoke up about it. I was so proud of them for recognizing something was wrong. It's easy for things to go unnoticed among the classroom activity."
McClure stated that Dean's situation was "a perfect textbook scenario" that she would not have been able to respond to had she not had the training offered through Life Safety Solutions.
Life Safety Solutions focuses on life safety education, emergency preparedness training, automated external defibrillators (AED) program management, emergency epinephrine program management, first aid and CPR training and is a supplier of safety products and equipment. The Palm City company is an authorized American Heart Association Training Center, an ECSI Education Center and an authorized provider of Emergency Allergy Treatment Training for Florida Department of Health. Through community outreach and education, Life Safety Solutions has been able to train a variety of groups in preparedness methods for all life's unexpected situations.
The Diocese of Palm Beach specifically partners with Life Safety Solutions to facilitate safety training courses in the 18 diocesan Catholic schools. Faculty and staff receive training approximately every two years, reviewing a range of life-saving techniques and preparedness scenarios with every teacher.
Dianna Pagano, Dean's mother, stated that, "Ms. McClure saved Dean's life—there's no doubt about that. I'm so incredibly grateful that the school prepares teachers for anything that might happen in the classroom. These skills are vital."
After learning of the life-saving skill McClure brought to her classroom, Dave Magruder, president of Life Safety Solutions, said, "This is a remarkable reminder of how valuable the commitment of the bishop, the chancellor, the vicar general and the entire diocese has been to ensure that the staff of all schools are trained and prepared to respond and to act in all types of emergencies. Life Safety Solutions is proud to be a partner with the diocese for many years in preparing and training our diocesan personnel."
In addition to McClure's bravery, Pagano appreciated the genuine concern teachers and students had for her son following the incident.
"Some of my son's classmates visited him in the school office to make sure was ok and they hugged him when he returned to school. It was these little things that made a scary moment better for Dean," said Pagano.
At a recent school Mass, McClure was presented with a certificate from Life Safety Solutions acknowledging her life-saving act. Principal Susan Demes, who also happens to be Dean's grandmother, expressed her thanks to the teacher that saved her grandson's life.
"Her training really paid off. I just wrapped my arms around my grandson and hugged him as tight as I could. I will be forever grateful for Mrs. McClure's quick action. I'm confident in knowing that, thanks to their training, any one of our teachers would be able to do the same for any child at our school."
To learn more about St. Ann School, visit stannwpb.org or call 561-832-3676. Follow the school on Facebook, Instagram and Twitter @stanncatholicschoolwpb.  Stay connected with the Office of Catholic Schools of the Diocese of Palm Beach online at diocesepbschools.org. For updates on the 18 diocesan Catholic schools, follow the office on Facebook, Instagram and Twitter @DoPBCatholicSchools.
---
To read more news in The Florida Catholic e-edition, click here.