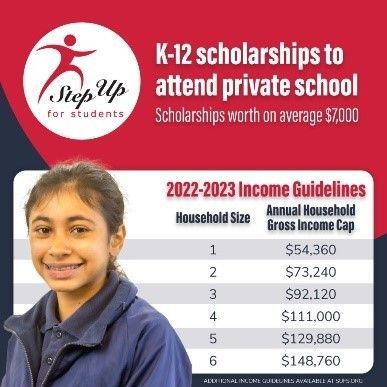 Step Up For Students provides scholarships that can be used to pay tuition and fees at Catholic school. Your family might be eligible or approximately $7000 per child!
The Florida Tax Credit and Family Empowerment scholarships are means-tested. Income guidelines have recently increased!
These families are eligible regardless of their income:
Dependents of members of the U.S. Armed Forces
Dependents of Florida Law Enforcement Officers, as defined here (as of July 1)
Siblings of students on the Family Empowerment-Unique Abilities
Foster or out of home care
The Family Empowerment-Unique Abilities scholarship covers students with a qualifying diagnosis including autism, down syndrome, speech or language impairment, anaphylaxis, rare diseases, other health impairment, including asthma, Type 1 diabetes, and more. While there is currently a waitlist, we encourage you to apply, as families on the waitlist receive funding priority.
Click here to join the interest list, so you will be notified when applications open.
Visit www.stepupforstudents.org/catholic to learn more.