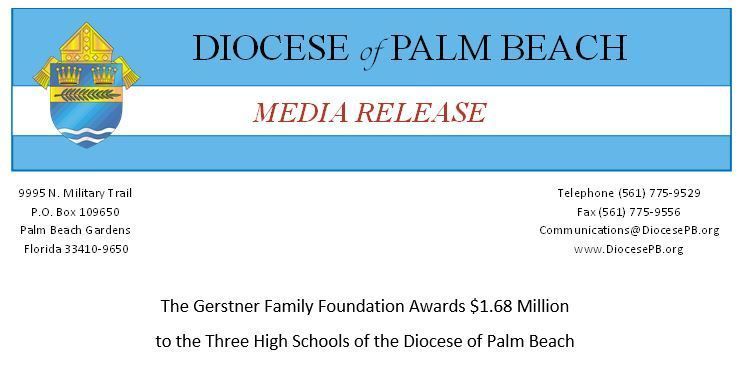 (Palm Beach)-  The Gerstner Family Foundation has awarded the Diocese of Palm Beach a grant of $1.68 million over the next seven years to continue the Louis V. Gerstner, Jr. Distinguished Scholars Program at the three diocesan high schools: Cardinal Newman High School (West Palm Beach), John Carroll High School (Fort Pierce) and St. John Paul II Academy (Boca Raton).
Bishop Gerald M. Barbarito expressed his appreciation for the gift by saying, "The Diocese of Palm Beach is grateful to Mr. Lou Gerstner and the Gerstner Family Foundation for their continued support of academic excellence in our three Catholic high schools. These scholarships assist families with outstanding students, who have financial need, to be able to attend our Catholic high schools.  I know that these families appreciate this wonderful opportunity offered to their children."
Bishop Barbarito went on to say, "Mr. Gerstner has been committed to helping these young leaders in our schools since 2005, when the Louis V. Gerstner, Jr. Distinguished Scholars Program began with a donation of $72,000. Mr. Gerstner has visited with our scholars and has seen first-hand the impact of his generosity." During the 2021-22 school year, $460,000 was awarded to 59 Louis V. Gerstner, Jr. Distinguished Scholars at the three diocesan high schools.
Each of the three high schools will be awarded $35,000 per year per class for the freshman classes entering high school from 2022 through 2025.  Each high school may award four to seven scholarships of $5,000 or $10,000 per school year, not to exceed $35,000 for each school.  The scholarship is for the Distinguished Scholar's four years of high school. 
Candidates for the scholarship must first have demonstrated financial need and shown strong academic excellence and leadership through middle school.  Once named, the scholars must maintain a minimum 3.0 grade-point average and exhibit involvement in leadership and community service.  Scholars are required to provide grade reports at the end of each semester and must provide a letter to the Gerstner Foundation at the end of each school year that summarizes their experiences during the year, including their leadership and service opportunities, as well as their future aspirations as they prepare for college.
Louis V. Gerstner, Jr. served as chief executive officer and chairman of the board of IBM Corporation from April 1993 to March 2002 and chairman until his retirement in December 2002. Following IBM, Mr. Gerstner joined The Carlyle Group, a global private equity firm located in Washington, D.C. He served as chairman from January 2003 until October 2008 and upon retiring from that position, he continued as a senior advisor to Carlyle through September 2016.
Before joining IBM, Mr. Gerstner served as chairman and chief executive officer of RJR Nabisco, Inc. Prior to that he served as President of the American Express Company and was a director of the management consulting firm, McKinsey & Co., Inc.
A native of Mineola, New York, Mr. Gerstner received a bachelor's degree in engineering from Dartmouth College in 1963 and an MBA from Harvard Business School in 1965. He is a member of the National Academy of Engineering, a Fellow of the American Academy of Arts and Sciences and has been awarded honorary doctorates from a number of U.S. universities.
Mr. Gerstner is a member of the board of Memorial Sloan-Kettering Cancer Center and chairman of the board of the Gerstner Sloan Kettering Graduate School of Biomedical Sciences. He was chairman of the board of directors of the Broad Institute of MIT and Harvard from 2013 through May 2021; vice chairman of the board of the American Museum of Natural History from 2007 until 2020; chairman of the board of advisors for the Columbia Medical Center Department of Ophthalmology from 1998 to 2012; and served as a member of the board of the Council on Foreign Relations from 1995 to 2005, and a member of the board of directors of the National Committee on US-China Relations from 2004 to 2011. In past years, he was a director on numerous public company boards including Bristol-Myers Squibb, The New York Times, American Express, AT&T, and Caterpillar, Inc.
A lifetime advocate of the importance of quality K-12 education in America, Mr. Gerstner created The Teaching Commission in 2003 to develop specific policy recommendations to raise the stature, performance and accountability of teachers in U.S. schools. From 1996 to 2002 he co-chaired Achieve, an organization created by U.S. Governors and business leaders to drive high academic standards for public schools in the United States. At IBM he established Reinventing Education as a strategic partnership with 21 states and school districts which utilize IBM technology and technical assistance to eliminate key barriers to school reform and improve student performance.
He has received numerous awards for his work in education, among them the Cleveland E. Dodge Medal for Distinguished Service to Education- Teachers College, Columbia University, and the Distinguished Service to Science and Education award from the American Museum of Natural History. In recognition of his work on behalf of public education, as well as his business accomplishments, Mr. Gerstner was awarded the designation of honorary Knight of the British Empire by Queen Elizabeth II in June 2001.
Mr. Gerstner is the author of Who Says Elephants Can't Dance, the best-selling account of IBM's transformation; and he is the co-author of the book Reinventing Education: Entrepreneurship in America's Public Schools.  Further information about this remarkable man may be found at: https://gerstner.org/founder.
In 2013, Mr. Gerstner was honored with the St. Elizabeth Ann Seton Award by the Diocese of Palm Beach at the Lumen Christi Scholarship Gala.  He was unable to attend the presentation and one of the Gerstner Distinguished Scholars accepted the award for him. The comments speak to the impact Mr. Gerstner has had on the lives of the students who have received scholarships in his name:
Good evening, everyone. My name is Stefan Panozzo and I am a student at Cardinal Newman High School. I am very honored and blessed to be here speaking to you tonight and I truly thank you on behalf of Mr. Gerstner for this tremendous honor. I am currently a sophomore at Cardinal Newman, and I am one of the Louis V.  Gerstner, Jr. Distinguished Scholars. This scholarship truly has meant a lot to me. It has allowed me to continue my Catholic education.
Before attending Newman, I was a student at Holy Name of Jesus since pre-kindergarten. I have been very blessed to have attended Catholic schools my entire life. It has been through Mr. Gerstner's generosity and that of other generous benefactors that myself and other young people like me have been given the gift of a Catholic education.
As a young man, Mr. Gerstner learned how important schooling was when he learned that his parents remortgaged their house to pay for him to attend Catholic school. He attended public grade school and later Chaminade, a Catholic high school in Mineola, New York. Mr. Gerstner was thus motivated to become an active benefactor in providing a Catholic education for hardworking young men and women. Personally, had it not been for Mr. Gerstner's scholarship, I may not have been able to attend Cardinal Newman High School and certainly I would not have had the privilege of speaking to you this evening.
I am reminded of Mr. Gerstner in one of my favorite Scriptures, Jeremiah 29:11: "For I know the plans I have for you, declares the Lord, plans for welfare and not for evil, to give you a future and a hope." You see, Mr. Gerstner has begun to pave a wonderful path for our future and thus giving us great hope for what God has in store for us. I know that much of the proceeds from this event also fund scholarships at our Catholic schools and on behalf of those scholarship recipients I thank each of you.  I would also like to thank you once again this evening on Mr. Gerstner's behalf for this very prestigious award, and I would like to extend my most heartfelt gratitude to Mr. Gerstner, not only from myself, but also on behalf of all the Gerstner Distinguished Scholars for his philanthropic contribution to providing each of us a faith-filled education. He is a true blessing to all of us. Thank you, and God bless you all.
The mission of the Catholic schools of the Diocese of Palm Beach is to build learning communities, based on the Gospel message of Jesus Christ and rich in Catholic values and tradition. The schools have a commitment and responsibility to teach the "whole child" in mind, body, and spirit. In developing the gifts, talents, and uniqueness of their students, the schools seek to prepare leaders and Christian stewards as a beacon of hope for the Church of the future. To learn more about the Diocese of Palm Beach schools, visit https://www.diocesepbschools.org or follow the Office of Catholic Schools on Facebook, Instagram or Twitter.
###
Photo #1: Bishop Gerald M. Barbarito of the Diocese of Palm Beach presents the St. Elizabeth Ann Seton Award to Mr. Louis V. Gerstner, Jr. in 2014.
Photo #2: Mr. Louis V. Gerstner, Jr. visits with the Louis V. Gerstner, Jr. Scholars at Cardinal Newman High School in 2019.