Science teacher earns award from Johns Hopkins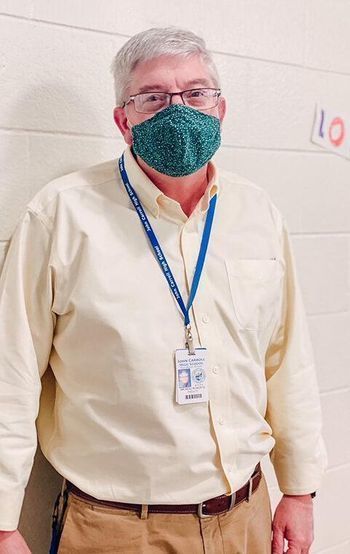 FORT PIERCE  |  Beau Roberts, a science teacher at John Carroll High School in Fort Pierce, was one of 10 educators from around the country recently honored by the Johns Hopkins Center for Talented Youth for excellence in teaching students with advanced academic abilities.
Roberts is in his 24th year of teaching at John Carroll. Some of the courses he teaches include AP chemistry, honors chemistry, academic chemistry, AP environmental science, honors marine biology, and earth and space science.
Roberts, who is also an online science instructor for the Center for Talented Youth, was honored during the Sarah D. Barder Fellowship Conference, held virtually in February. Now in its 33rd year, the conference brings new and past fellows from around the country together to share ideas and best practices about educating students.
"It's all about the kids. It is a great privilege and responsibility to prepare our students for the future, a role I do not take lightly," Roberts said. "I work in an environment where I receive support from administration and parents, making my job easier."
At the conference, Roberts heard Rhonda Bondie, Harvard Graduate School of Education director of professional learning, speak about her research on agile teacher thinking and how teachers can optimize students' learning during classroom discussions by asking questions that prompt deeper topic contemplation. Honorees practiced some of the techniques they learned when they participated in a simulated classroom that included student avatars that were actually manipulated by an actor working behind the scenes to interact with the teachers in real time. 
Nominations for the Sarah D. Barder fellowships come from students in the center's summer and online courses who live in California, Nevada and Maryland. Sarah D. Barder, an educator, philanthropist, parent and friend of the center, endowed the fellowship in 1988 as a way of recognizing talented teachers of academically advanced students. Nominated teachers are invited to submit an essay describing their teaching philosophy, and a panel of Johns Hopkins educators then selects educators from this group for recognition as Sarah D. Barder Fellows. Nearly 500 educators have been honored as Sarah D. Barder Fellows to date. 
"To say that Beau is an outstanding educator simply does not do it justice," said Corey Heroux, John Carroll High School principal. "He is committed to his students and to John Carroll itself and goes above and beyond in his support of our school's mission. We are beyond blessed to have Beau as a member of our John Carroll faculty and staff, and we are very proud of him for earning this distinction."
A nonprofit at one of the nation's premiere universities, Johns Hopkins Center for Talented Youth identifies academic talent in the world's brightest kindergarten through grade 12 learners and supports their growth with accredited summer, online, and family programs, services, and resources designed to meet their needs. 
For information about John Carroll High School, visit johncarrollhigh.com or call 772-462-5200. Follow on Facebook and Twitter @JohnCarrollHS and on Instagram @johncarrollhighschool.