Gym class incorporates Stations of the Cross with exercise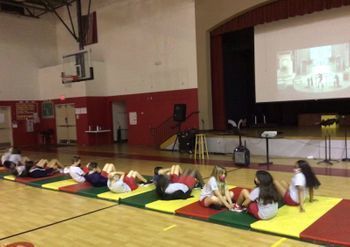 During Lent, fifth grade students at St. Ann School in West Palm Beach participated in the Stations of the Cross Workout Program created by SportsLeader, a Catholic virtue-based formation program for coaches and directors of Sports Ministry.
While the eighth-grade class reenacted the Stations of the Cross in the church building, fifth grade students combined a specific exercise to each station. Praying the stations in this way helped the students grow closer to Christ by experiencing the fatigue, sweat and effort that the Lord suffered in his Passion and Death.
For example, the sixth station, Veronica Wipes the Face of Jesus, was combined with sit ups. The reflection for this exercise and station read, "With angry, drunk soldiers surrounding a man they are en route to nail to a cross, one extremely courageous, bold, brave woman risks her life and her reputation by wiping Jesus' face with her cloth. She wanted to help in some small way and nothing was going to stop her. How often do we give in to our fears of what others might say or do? Are we afraid of excellence? Are we afraid of challenging our teammates to do better, to striver harder for perfection? May we imitate the bold courage of Veronica and let nothing hold us back from helping our teammates get better."
The seventh station, Jesus Falls for the Second Time, was combined with burpees. The reflection for this exercise and station read, "Even after Simon comes to help him, Jesus still falls again. Perseverance is agonizingly difficult at times. Don't let falls, failures or embarrassments stop you. Imitate Jesus on his way to Calvary. He fell down again and again and every time he got back up, he would fulfill his mission. Let's persevere as a team, let's fulfill our mission."
The twelfth station, Jesus dies on the Cross, ended with silent prayer. The reflection for this exercise and station read, "Every athlete dreams of being on a team of passionate, dedicated leaders who will do anything and everything necessary to win a championship. Where everyone is absolutely 100% all in. Was anyone more passionate, more all in than Jesus? He did give anything and everything. He gave his life for you. Let's have the passion to live our lives for him." 
---
To read more news in The Florida Catholic e-edition, click here.